Telge Roofing was awarded and has maintained the Triple Excellence award since 2018 as a Master Elite contractor for GAF. Why is this important? Master Elite contractors are the only type of roofer than can provide the golden pledge warranty, which is the most powerful and substantial warranty in the entire roofing industry. While certification is not required to be a roofer, Telge in their goal for excellence as your roofer voluntarily stepped up to be certified Master Elite.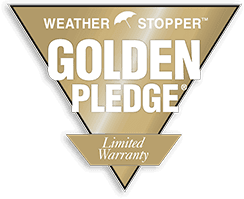 The golden pledge warranty is the only warranty that requires the entire roof system installed in your home in Cypress, TX to be from GAF, a single manufacturer. Once your new roof is installed, a representative from GAF comes out to certify your roof installation and will then handle your warranty claims if it should arise in the future. They will come out and put their stamp of approval on the job when Telge Roofing is done, and if for some reason we fail their in depth 40 point inspection we have to fix it right away! Funny thing is that there is not much of an extra cost to do your roof in this manner, we are talking a few hundred dollars on a mid-size roof. You will probably spend more on buying a warranty on a new appliance for your home.
Less than 1% of all roofing contractors nationwide are certified to be Master Elite. The reason? It is damn hard to achieve! GAF verifies the following items before granting a company the master elite status.
Minimum 7 years in business – 1 year in their certified program Telge Roofing has been in business since and GAF Master Elite certified since 2013
99% customer satisfaction based on independent surveys from GAF
1 million general liability coverage (see attached certificate) along with valid workers compensation
Satisfactory rating with BBB – Telge Roofings rating is A+
GOOD or better credit rating
Clean banking record (no overdrafts, negative info)
Clean distributor reference (means we pay our bills)
No leins, or judgements unresolved on record
Good workmanship record
You can see why it is almost impossible for 99% of companies to achieve even these base requirements, but the final test is calling Telge Roofing at 281-607-2080 for a face to face meeting with our managers to doubly verify all information and personally check out our previous jobs and talk to some of our previous customers (list attached). We offer FREE no obligation inspections and proposals. It is a true partnership with GAF, and it is fantastic for us, them and especially you and your home. This is how business relationships are forged, through honesty, transparency and integrity.
CALL US TODAY FOR A FREE ESTIMATE

281-607-2080
"They are absolutely amazing from A to Z and I highly recommend them."

Gul M.

"Good work Ivan and Telge work crew!"

Sue W.

"You and your crew were professional, courteous, and had a general concern for my satisfaction that far exceeded my expectations."

Hanan N.
Let Our TEAM hELP yOU
A First Class Roof From A First Class Company